Can perform any trickery with trees
Performing our own branch of tree magic
Crown Raising
Crown Lift or Crown Raising. Crown lifting is the removal of the lowest branches and/or preparing of lower branches for future removal to give room for vehicles and people to get were they need to go also clear around roofs on houses to stop rats and animals getting on the roof
Reductions
Crown Reduction. Crown reduction is used to reduce the height and/or spread of the crown of a tree by the removal of the ends of branches whilst maintaining the tree's natural shape as far as practicable. Best practice is to reduce by 1/3 of the crown
to 1/3 of size of limb
Line Clearing
Internet Phone or Power line clearance is removing branches and trees away from power pole connection to house connection this is owner responsibility and can be costly if not maintained properly Trees should be kept minimum of 1 meter from these wires if practical
Dead-wooding
Deadwooding is the removal of dead branches and limbs from a tree. If a tree is subject to light deficiency, pests and disease damage, these are all reasons why branches could die and eventually, fall off. ... Dead wooding is particularly important for trees overhanging roads, houses, public areas and gardens.
Thinning out
Removing branches to allow more sunlight to pass through the tree. This is great for when you have big trees and want views through the tree, but want to keep the tree nice and healthy.
Section Clearing
Removing trees from a section of the garden. Clearing properties to get ready for new builds. Stump grinding can be offered as a service.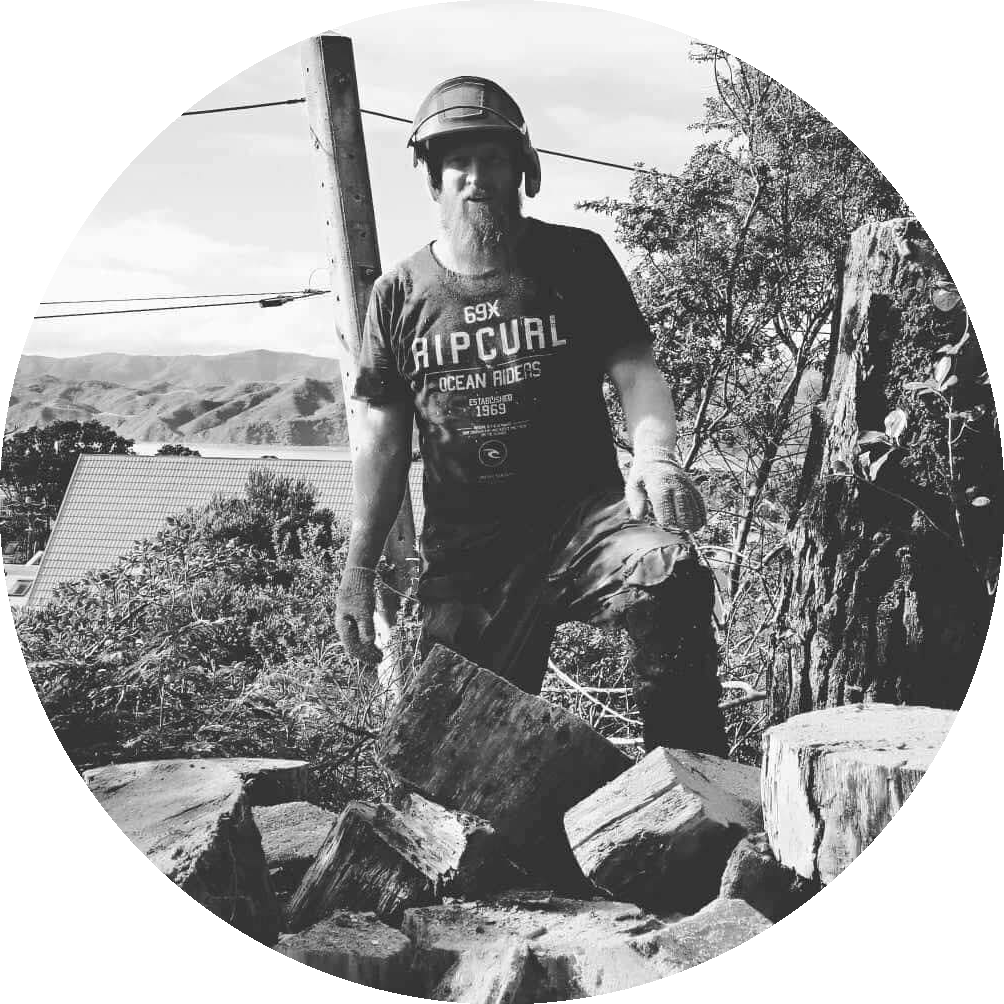 Chris McNamara
Head Arborist
I am a fully qualified arborist, trainer, and assessor. With local expertise and years of experience, I am happy to provide quality tree work to the greater Wellington area. 

Before and after transformations
I had Chris come out to remove a few trees from home and he did a fab job. Chris was prompt in his service and response, and neat and tidy with his work. Would def recommend.
Chris McNamara from Tree Magicians did a great job at my Hataitai property, trimming overgrown trees on difficult terrain. He provided great advice, a prompt and friendly service at sharp pricing. I'd recommend you have Chris provide a quote for your next tree trimming project. Many thanks Chris.
We would have no hesitation in recommending chris of Tree Magicians. He was thoroughly professional and consulted us throughout the tree trimming/topping process which was reassuring. We are extremely happy with our trees now because they look fab!!.
Great job tidying up our unruly hedge. Recommended. Left the place nice and tidy afterwards too.
chris@treemagicians.co.nz